Following the off tangent report by a widely circulated local Malay language (Harian Metro) newspaper that incited Malay discontent with Wee Meng Chee and his rendition of the Negaraku.
Although we do not support the creation of the spoofed Negaraku, people must not be quick to overreact and throw death threats to the Chinese and to Wee's family. Especially, without first understanding what Wee was rapping about.
Here is an example quoted from a response by a Malay person on Wee's apology letter on his blog: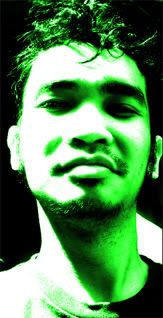 Kebanyakkan kata-kata dalam lagu dia punya kebenaran.

Tapi dia seorang racist. Fuck you. Siapa respek dia aku isytiharkan kamu juga sebagai racist dan aku akan insytiharkan sumpah seranah 16 keturunan kau. Respek la bangsa/agama lain. Tak kira la kau siapa pon. Respek!

Inilah salah

satu contoh Yellow Power

di dalam rap!....

Aku tak menyokong mana-mana kegiatan yang maki hamun bangsa lain. Aku Malaysian. Seorang Malaysian seharusnya hormat bangsa dan agama lain.

So... Namewee.... kamu tidak boleh rap.... dan video kamu pun sangat-sangat teruk sama-sekali. DIY my anus...!

Fuck you Namewee! Fuck you...

u fucking racist fuck

...

semoga kamu mati bersama Rahmat Bahagia. macibai!

got email dari seorang fucker.... fuck u eric yong... kamu seorang

bangsat racist yang patut mati!


mari la kita bersama spam email dia... yahhhhhhh!
So... who is the racist now?
Read the full posting here:
http://nizam-nuri.blogspot.com/2007/08/namewee-merupakan-seorang-rappers-yang.html
So, before one over-reacts like the idiot above, it's best to first understand what was being said. As extracted from Namewee's blog, here it is:
NegarakuNegarakukuNegarakuNegarakukuNegarakuNegarakuku
Aku cinta Negara aku ada Negara baru ada keluarga
Ada keluarga baru ada aku berdiri disini
Nyanyi dengan engkau engkau jangan takut
Walaupun aku selalu cakap kasar
Lagu aku sama macam durian
Keras dan tajam tetapi
Tengok engkau berani buka ke tidak tengok apa yang ada di dalam
Dia boleh dikatakan busuk dia juga boleh dikatakan wangi
cuma tengok engkau ada macam mana punya hidung
MATAPolis kita panggil 'mata' (dlm bhs hokkien)
Ini kerana mata mereka sangat tajam
Apabila raya mereka akan jadi rajin
Pen di tangan tetapi jarang bagi saman
Ini keran mereka dahaga mereka mahu minum teh
Ataupun kopi O nak tambah gula ke tidak
Kalau tambah gula mulut mereka akan senyum dengan engkau
Apabila engkau nak pergi
TATADia akan ucap TATA (maksudnye bye)
NegarakuTanah tumpahnya darahku
Rakyat hidupBersatu dan maju
Gejala ini tidak perlu memperbaikikan
Juga tidak perlu memperkuatkan , kerjasama antara pihak polis dan rakyat
Secawan kopi hubungan boleh kekal
sukaAku memang suka
Sekurang-kurangnya balik rumah tidak akan dapat saman
Ayah mesti geram
Aku mesti kena marah tidak ada kereta untuk aku
Macam mana kali ini memang teruk
Tak de kereta macam mana aku nak keluar main
Tak de kereta macam mana aku nak XXX
Tak de kereta macam mana aku nak tengok ah kua
Negara ini aku memang suka
pukul 5 pagi
morning call
Ada morning call akan suruh aku bangun
Kadang-kadang beberapa 'buah' nyanyi sama-sama
macam tengah duet lagu cinta R&B
Suara tinggi rendah macam tengah nyanyi R&B
Walaupun kadang kala sebahagian daripada mereka out of tune
Walaupun kadang kala sebahagian daripada mereka pecah suara
Ada juga suara yang macam kokokan ayam tetapi dia bangun lagi awal dari ayam
Macam ini baru kite tahu mase untuk bersiap ke sekolah dan kerja
Jangan salahkan kerajaan hanya akan jaga rakyat tertentu
Jangan salahkan kami tidak dapat jagaan yang adil
Macam ini baru boleh menunjukkan yang orang cina tidak takut menderita
Macam ini baru boleh melatih kita mencari jalan keluar apabila menghadapi kesusahan
Jangan mengatakan standard ini sangat pelik
Kerana dengan ini baru menunjukkan kami sangat teror
Anak-anak yang tidak dimanja baru akan menjadi tabah
ada orang sampai sekarang masih belum berhenti minum susu
Rahmat bahagiaTuhan kurniakanRaja kita
Selamat bertakhtaRahmat bahagiaTuhan kurniakan
Raja kitaSelamat bertakhta
Pekerja dalam kerajaan lagi teror
Apa yang mereka buat boleh slow slow
Walaupun orang yang beratur marah
Mood mereka tetap rase bebas dan seronok
kuih Kadang-kalag kuih pun mereka ambil keluar kuih
Dia makan nyonya kuih dia
Dan engkau sambung beratur
Walaupun engkau nak marah pun tak pe
Kerana guard kat tepi pun tengah bermimpi
Dia takkan layan engkau
Mereka yang memakai tudung perlahan-lahan melintas jalan
Engkau yang memandu kenalah berhati-hati
Asalkan hidup dengan gembira asalkan hidup dengan selesa
Jangan macam orang cina
Tiap-tiap hari sibuk sangat susah
Semangat ini mesti kita kena kagumi
Kerana ini adalah sikap hidup mereka
A
ku bercakap baik-baik dalam lagu ini
Aku percaya orang yang tak suka dengan aku mesti sangat suka
Dunia aman baru ada harapan
Tidak ada orang cedera dan tidak tak tersusun
Engkau suci engkau sopan
Najis wangi tak tahu cakap kasar
Engkau sangat high class tiap-tiap hari main romantic
Dengar guang liang pin kuan (penyanyi malaysia)
Tetapi mereka sudah pergi taiwan
Pelajar Sekolah Cina
Nak masuk local U sangat susah
Dalam kes ini, kita tidak patut geram
Ini cuma satu rancangan yang mulia dari kerajaan
Dia nak kami pergi merata-rata tempat pergi oversea mencari impian
Lepas itu balik negara membalas jasa
Rancangan ini memang bagus memang bagus
Di seluruh dunia mesti nampak malaysia punya rakyat
Macam melarikan dari bencana memang best
2007 ialah tahun pelancongan malaysia
Budaya cina semua mengambil keluar untuk publisiti
Pelajar sekolah cina
Memang tak dilayan oleh kerajaan
Sijil boleh buang ke longkang macam saya
Lepas tamat persekolahan terus pergi Taiwan
Belajar di sana bersedia balik negara untuk membalas jasa
Aku berdiri di tepi Taipei memain guitar
Tetapi Mulut aku tetap menyanyi
Rahmat bahagia
Tuhan kurniakan
Raja kita
Selamat bertakhta
It is best to understand the essence of the lyrics, no matter how racist it may appear and some people need to look within themselves and really assess whether there is any truth in it. Fact is, based on the responses from the Chinese community, many agree that this is what they have been feeling for a long time - nuff said.
Namewee's explanatory blog posting:
http://namewee.blogspot.com/2007/08/hello-semua-orang-melayu-sila-tengok.html
The government should dig deep and look within themselves before going on a witch-hunt for bloggers and people like Wee who are expressing their frustration at years of missed opportunities that are due to the preferencial treatment that the Malay community receives, which, many of them now seem to take as their Birthright!
Afraid not bro... everyone has to earn their keep... shut up, wake up and start moving before the world leaves you behind. Disbelief? Well, just continue like this for another couple of decades...
You should read Wee's blog posting, that is supposed to be an apology cum explanation for his actions.